📲Mobile - Prioritized Audio Mode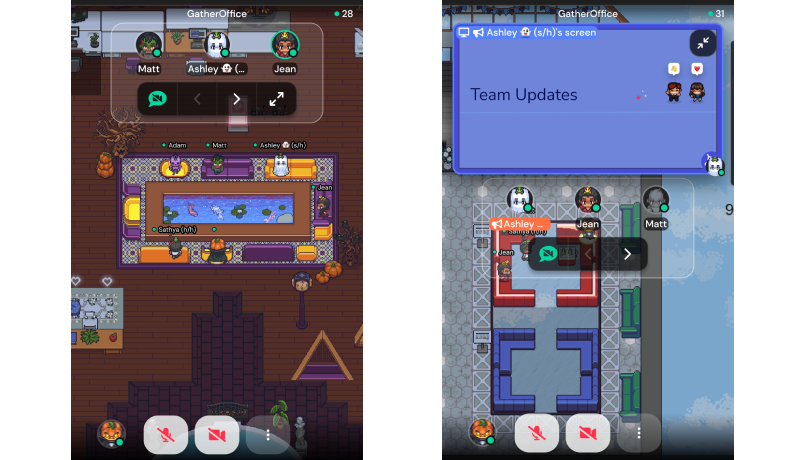 Improve general performance on mobile and reduce battery usage with our new
Prioritize Audio
toggle! This setting will turn off incoming video streams and replace them with their character icons. You can still choose to see individual video streams in expanded mode by selecting someone's name or shared screen. If you are currently viewing a shared screen or have someone's video selected in expanded video mode, we will preserve your preference while turning off other video streams.
🔮Mobile - Help Us Improve Stability!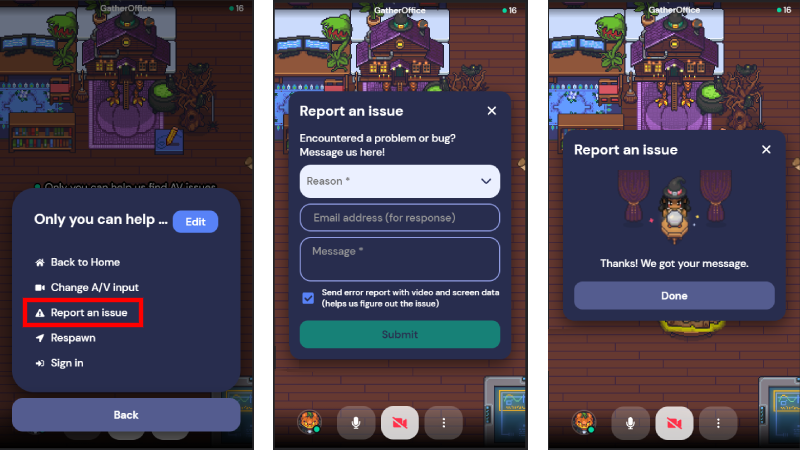 We are always looking to improve your Gather experience. To help us learn about issues you're encountering, we've added bug reporting to our mobile site. You can find it in your mobile settings menu by selecting the three dots on the bottom right side of your screen.
Please report any issues you encounter. We look at every report and want to create the best experience possible.
🦗Less Flashy Updates and Bug Round Up
Added mobile symbol next to name of people using our mobile site on the desktop browser Participants list
Added check box to stop showing the limited functionality mobile site warning each time you use Gather on mobile
Revamped incompatible browser warning page
Added a better redirection screen for unsupported browsers on iOS
Fixed bug preventing Information Board from appearing in several event Spaces (not available in Remote Work Spaces)
Fixed checkbox warnings appearing in the dev console
Updated subscription messages on Space dashboard to show when they end after a subscription has been canceled
Fixed issue with being unable to edit some active reservations
Added better Space creation flow to take you straight to appropriate templates based on use case
Better handling of extreme spikes in usage
That's all for now!
- The Gather Team